Jio GigaFiber Launched – Likely Pricing and data plans, Registrations to begin from August 15
Jio GigaFiber
was launched on July 5 in a Annual General Meeting (AGM) in Mumbai. However, the pricing and data plans shall be announed on August 15.
Here is everything you need to know about the service along with its plans.
After a year full of rumours, speculations, leaks, and beta trials, Jio has finally launched its fiber-based broadband service and it is calling it the Jio GigaFiber service. The company says that Jio GigaFiber will be the largest greenfield fixed-line broadband rollout anywhere in the world, with rollout happening in 1,100 cities of India simultaneously. The beta test for the service is already live in select cities and the registrations for the service will begin from August 15.
The company's chairman Mukesh Ambani said that though the registrations will be open for all but locality that registers the highest number of registrations for Jio GigaFiber will be given preference by the company.
Talking about the devices that will come with the Jio GigaFiber broadband connection, it will come with a router and a Jio GigaTV set-top-box. The company at its 41st Annual Global Meeting announced that Jio engineers will come to your doorstep to set up the service and the entire process of setting it up should not take more than an hour. Jio aims to connect 5 million homes with the Jio GigaFiber.
The possible plan of action for Jio GigaFiber registration could be this- You will have to contact the nearby Jio store or a request for a connection. This is for the areas where beta testing is live. Jio will review the request and if it is possible to install giga fiber in that area it will offer you the Jio GigaFiber for trial.
As for the price the company did not announce anything on the price at today's event but past reports suggest that Jio could ask you to deposit Rs 4500 as an installation charge which can be refunded in case you want to discontinue the service.
Jio is currently running the trials of the service in select cities. There are chances that Jio could offer plans somewhat similar to the JioFiber preview offer which we have talked about in the past. Jio could offer 100GB data per month at the speed of 100MBPS and once the user reaches the limit, the speed may slip to 1 MBPS.
Alongside the data, the user may also get Jio bouquet of services including the 5GB cloud storage. A past report suggests that Jio broadband plans could be divided into three categories- Jio Giga Fiber Speed-based plans, Jio Giga Fiber Volume-based plans, and Jio Giga Fiber special broadband plan.
— Jio GigaFiber speed-based plans: These plans could start at Rs 500 and go up to Rs 5500. With Rs 1500 recharge, the user will get 2000GB data at 50 Mbps speed for 30 days. For Rs 2000, it will be 1000GB at 100Mbps. At Rs 3500, the user will get 750GB at 200Mbps speed. Similarly, for Rs 4000, it will be 500GB at 400 Mbps speed and 300GB at 600Mbps for Rs 5500.
— Jio GigaFiber volume-based monthly plans: These plans could start from 5GB to 60GB daily. The 5GB daily plan could cost user Rs 1000, 10 GB daily plan for Rs 2000, 20GB daily plan costs Rs 3000, 40 GB daily plan for Rs 4000 and 60GB daily plan at Rs 5000. Validity could be for 30 days.
— Jio GigaFiber special broadband plans: This plan is for those who want to enjoy JioFiber broadband internet at low cost. It will be offered with Rs 500, Rs 800 and Rs 1000 recharge options.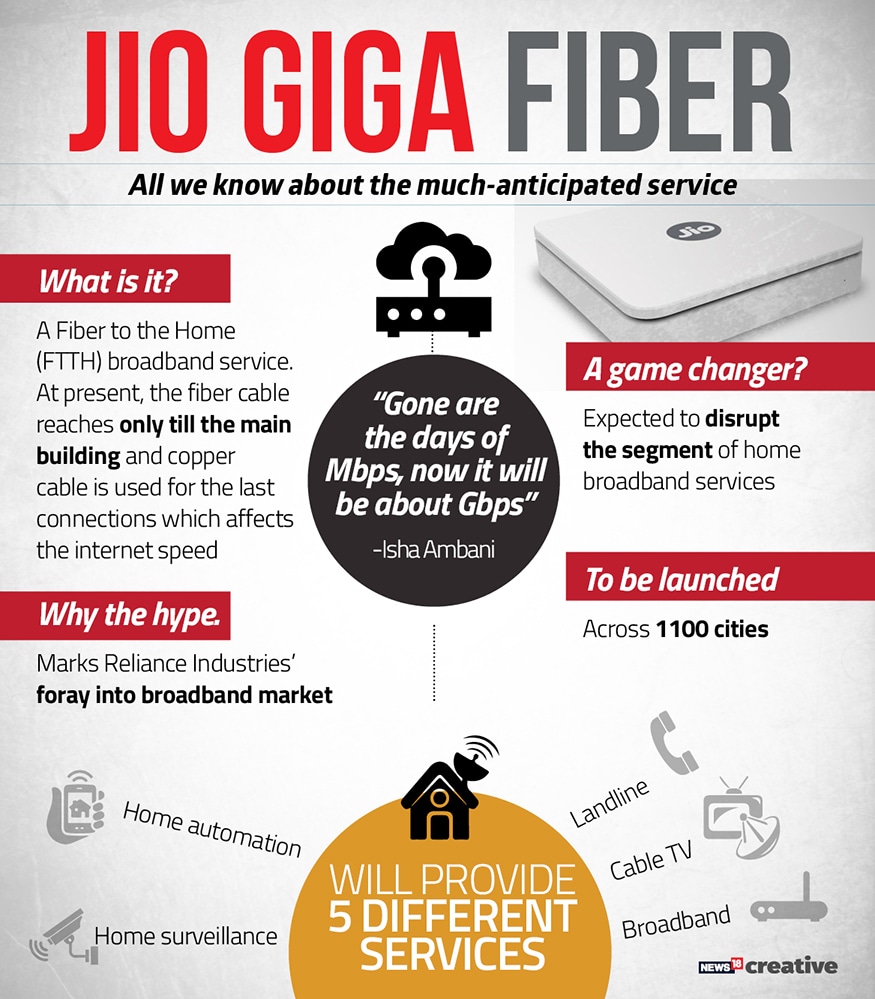 (Image: Network18 Creative)
A paramount reason that was highlighted during the Reliance AGM 2018 for the upcoming Jio GigaFiber is that most of the countries with superior communication infrastructure in place utilise fixed-line connectivity for more than 80 percent of their data consumption. As mentioned in the statement by Mukesh D. Ambani, India is ranked at the 134th position globally in terms of fixed broadband connectivity. "Poor fixed-line infrastructure" has been mentioned as a prime reason for this.
In order to propel the digitally-driven growth of the country, a first-class fixed-line connectivity has to be put in place. Jio plans to do just that with the GigaFibre and not just on a subliminal level but to take India all the way to the top 5 in the list.
You might also like
---
More from Launches
---
LG brings 5 star rating Washing Machines to India starting at Rs 12,000 The new washing machines are equipped with Smart …
New HTC Smartphone Launches in India through InOne Smart Technology for the "Fearless" You - HTC Wildfire X offers several firsts …
Boult Audio launches Bassbox BLAST Wireless Bluetooth Speaker Boult Audio, a premium audio brand hailing from India which is known for its out …
Editor Picks
---